The clinical component comprises of 4 Subjects, and each Subject has 2 stations. Medicine and Paediatrics will be in the Medical Track while Surgery and Obstetrics & Gynaecology will be in the Surgical Track. Refer Item 5 for eligibility to sit the ERPM Part B.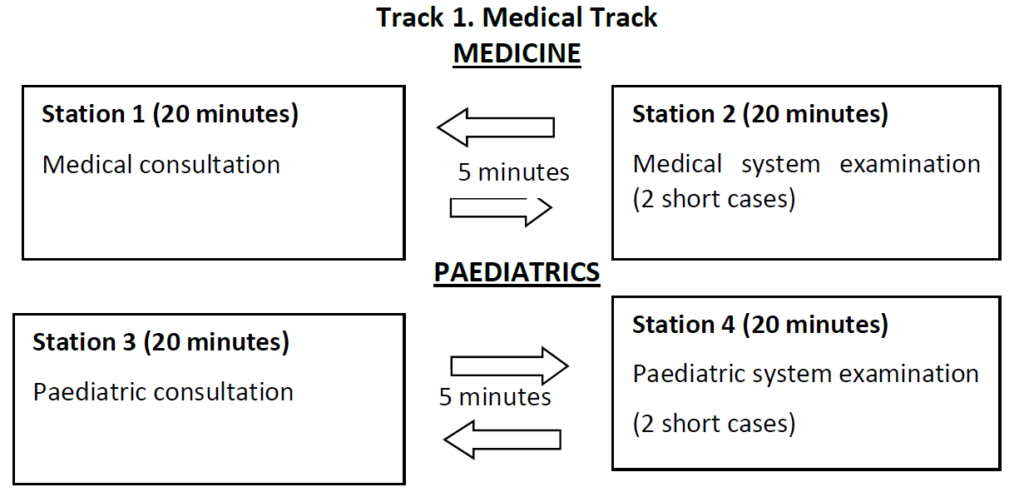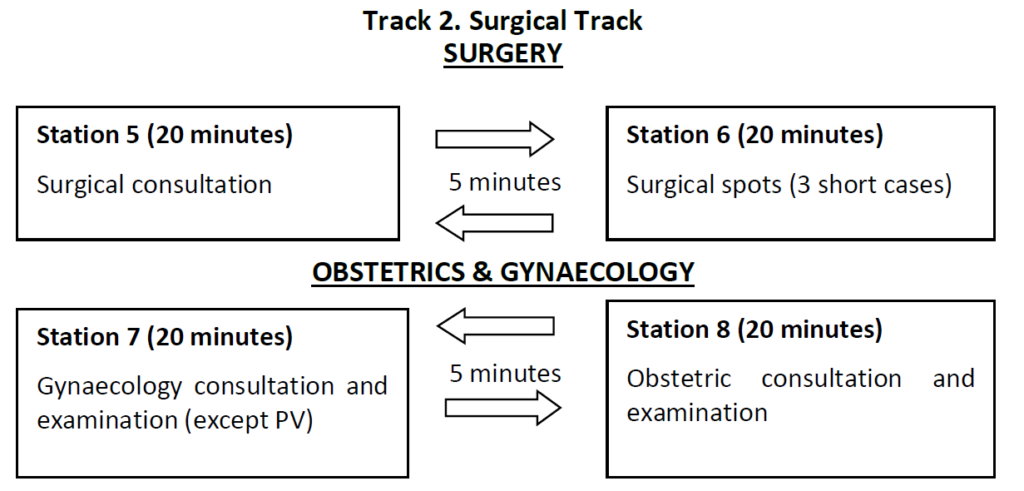 The evaluation will be based on marks awarded for demonstration of skills listed against each station. These include history-taking, problem identification, physical examination identification of abnormal signs, differential diagnosis, patient management and communication skills. The examiner will award marks on the basis that the pass mark (minimum expected standard) for each station is 50%.
Each station will have 2 examiners who will award marks independently. The total mark awarded by each examiner for all skills evaluated at the station will be the total mark (out of 100) for the station. The final mark obtained by the candidate for each station (out of 100) will be the average of the total mark awarded by each examiner for the station.
Example: Station 1
Examiner 1: 60 / 100
Examiner 2: 50 / 100
Final mark: 55 / 100
Requirements to pass Part B (Clinical Examination)
Candidates should pass all subjects (Medicine, Paediatrics, Surgery and Obstetrics & Gynaecology) to complete ERPM Part B.
In order to pass each Subject a candidate must obtain:
A minimum final mark of 45 / 100 (45%) for each station AN
A minimum of 100 marks out of 200 (50%) for the two Stations of the subject.
A candidate who has a minimum of 100 out of 200 marks from the two stations of a subject but has scored less than 45% for one or more stations will be required to sit the whole Subject (both stations) of Part B to qualify at a repeat attempt.
Candidates are required to sit (as per notice announced on 14th February 2017):
All the subjects of ERPM (Part B) at the first attempt since qualifying from the Medical and Surgical Tracks of ERPM (Part A).
In subsequent attempts all the subjects which were NOT passed or the subjects previously failed in ERPM (Part B), except those where the candidate is not qualified to sit by NOT passing the relevant subjects in ERPM (Part A).
The relevant subjects(s) which a candidate has failed in the current attempt, only in a subsequent attempt
Both stations of the subject(s) in a subsequent attempt if a candidate fails a subject(s) due to a score of less than 45% for a station(s) in the current attempt although the score for the subject(s) has been more than 50%, as he/she shall be considered as failing that subject(s).
Note: With effect from 1st March 2017 only the above regulations will operate in conducting the ERPM Part B.
Those who have previously passed individual subjects in Medicine, Paediatrics, Surgery and Obstetrics and Gynaecology under the previous format of the ERPM can fit into the Track pattern as stated above.